FIBROBLAST PLASMA
SKIN TIGHTENING

Plasma Skin Tightening contracts,
tightens and resurfaces loose
tissue. The process strengthens,
plumps and lifts the skin's structure
How Plasma Skin Tightening works?
Also known as soft surgery brings a more affordable option to invasive skin treatments, faster recovery time and improves the appearance of skin without undergoing surgery. If you are looking to lift, tighten or rejuvenate your skin, Fibroblast Plasma Skin Tightening technique offers the most natural and attainable results.

Fibroblast Plasma Skin Tightening has minimal down-time, no damaging effects. During the treatment, the skin is treated with controlled bursts of plasma gas in order to lift and tighten the treated area without damaging the tissue.
ASPYA aestheticians carry out numerous soft surgery treatments, including forehead lifts, crows feet smoothing, eye lifts and bunny lines. Our soft surgery treatments can also be used to smooth acne scarring and uneven skin tone.
Because Fibroblast Plasma Skin Tightening procedures are non-invasive, there is no need for a general anaesthetic, as required with more traditional surgeries.
Plasma Skin Tightening is ideal for upper facial, mid facial, lower facial and advanced skincare treatments.
Your Plasma Skin Tightening Therapists
ASPYA was the first Clinic in Queensland to offer Purebeau Plasma Skin Tightening and continues to lead the way by developing this anti-aging skin tightening and lifting treatment in combination with other skin care modalities resulting in exceptional outcomes to their clients.

ASPYA therapists Karen and Jenna have both achieved certification to do this treatment by both Australia's and Germany's top leading International Fibroblast Skin Tightening Training Academies.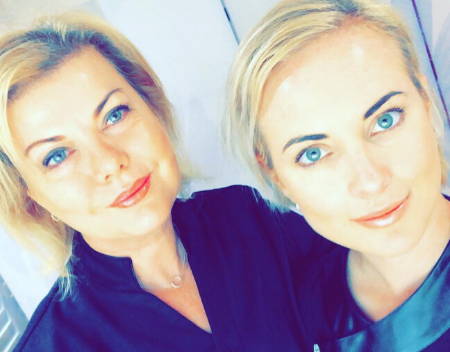 The structure of a building over time will begin to weaken and lose its flexibility. The foundation strength becomes unable to bear the load it was initially designed to support, and deterioration begins to show. It will eventually buckle, sag and weaken. The is comparative example of what occurs in the cellular structure of our skin over time.
As we age our dermal layer thins and the production of collagen molecules slows down dramatically and this leads to a deflationary effect on the surface of our skin causing us to get lines, wrinkles and sagging skin.

As the scaffolding of our skin deteriorates it loses laxity and texture and the elastin that underpins our skin's elasticity begins to wear out, deform, and 'slide' over the collagen fibrils. This prevents them from maintaining a solid structure.

Fibroblasts are the most common cells of connective tissue in the body and they are the only cells that can make Type III collagen.

Type III collagen synthesises alongside tougher Type I collagen over a period of about 3 months. Type I and Type III collagen is what helps provide the strength in our skin's dense connective tissues and it is famed for minimising fine lines, wrinkles and micro-furrows, as well as improving the elasticity, suppleness and hydration of our skin.
Most fibroblasts are inactive and are actually called fibrocytes. Fibrocytes will rarely undergo cell division and will not produce collagen unless they are specifically re-activated by a wound healing process or inflammatory response.
We do precisely that with Fibroblast Skin Tightening.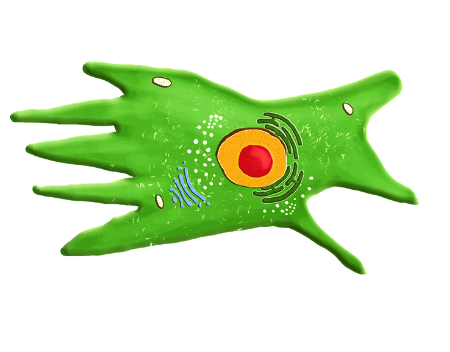 Facial Treatments areas for Fibroblast Plasma Skin Tightening?
Treatment areas for Upper Facial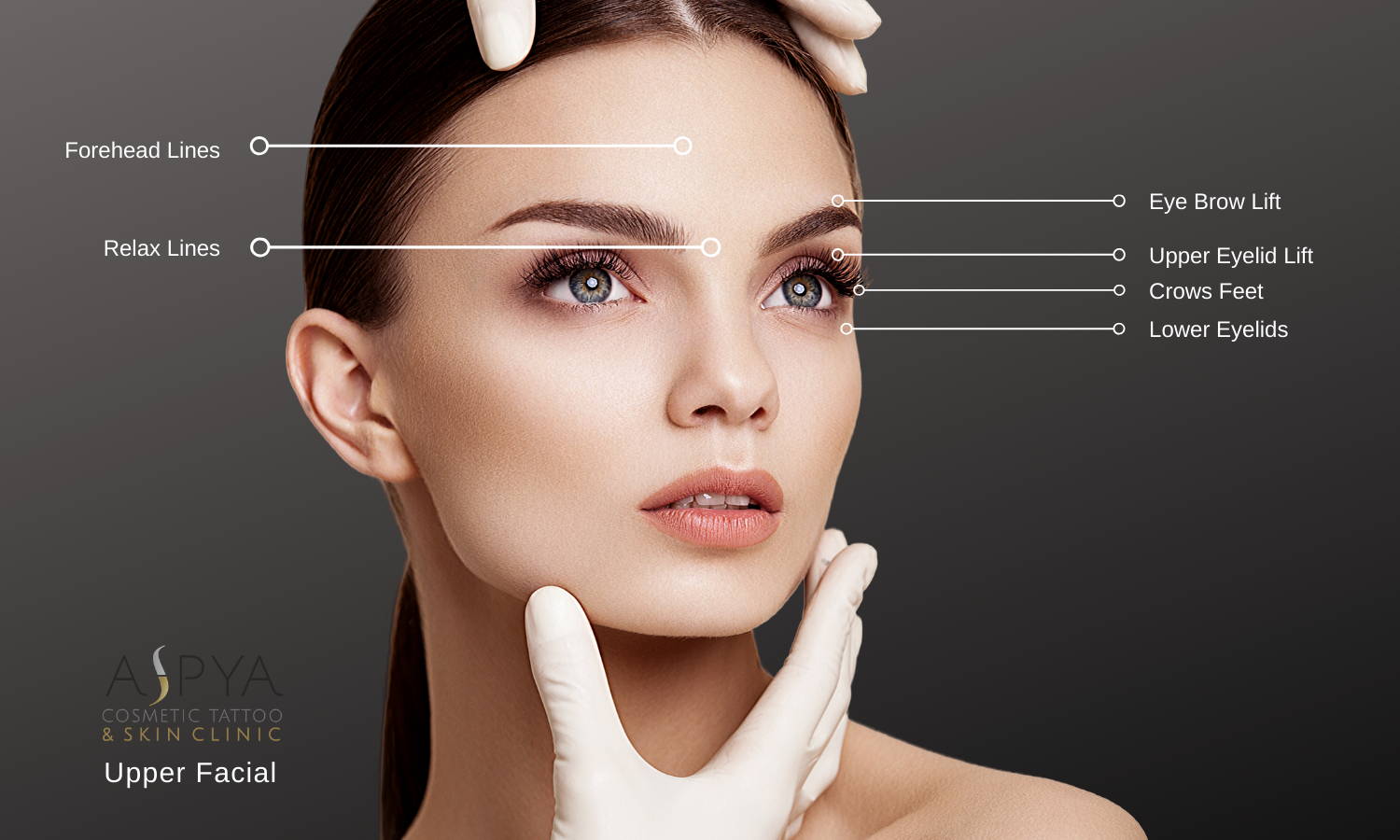 TREATMENT AREAS FOR MID FACIAL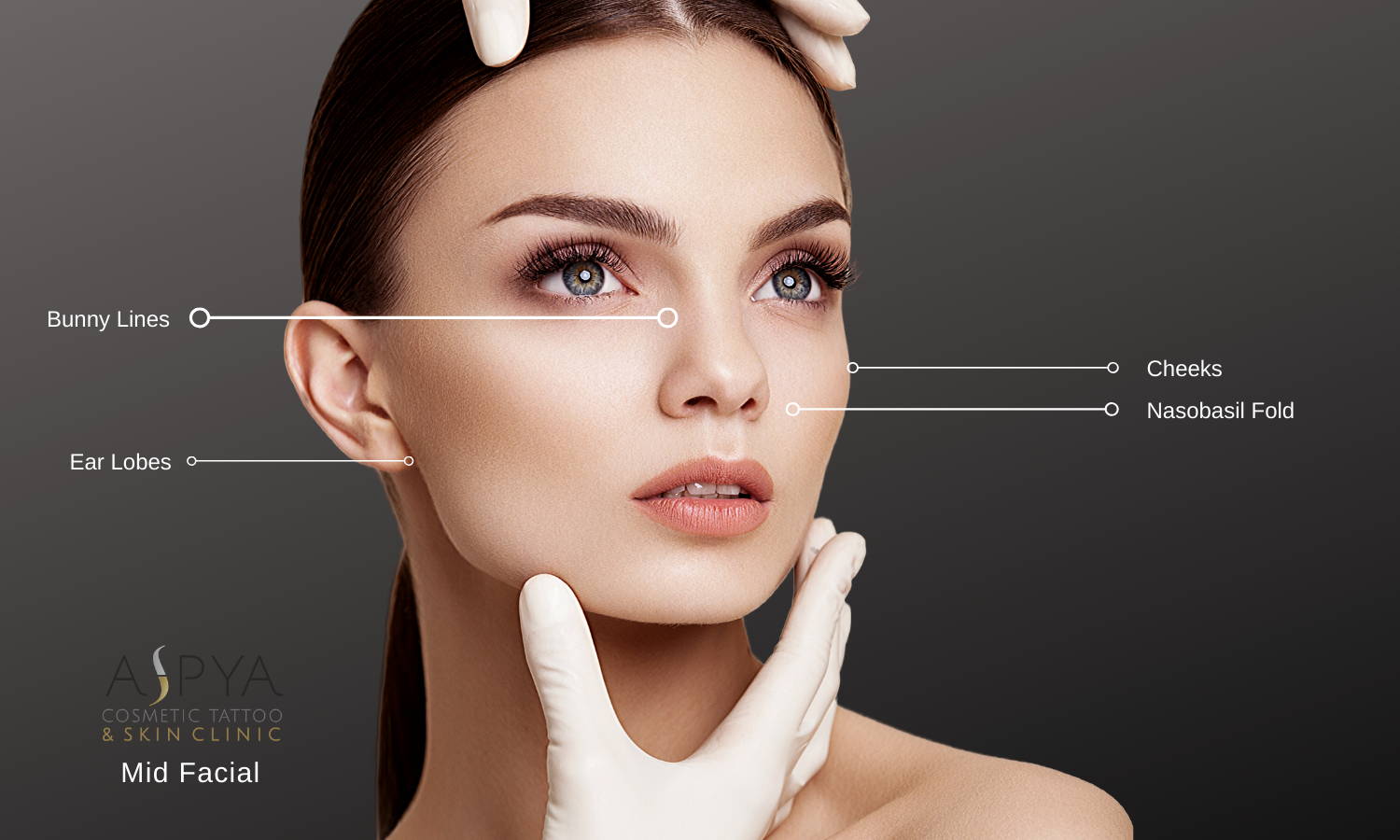 TREATMENT AREAS FOR LOWER FACIAL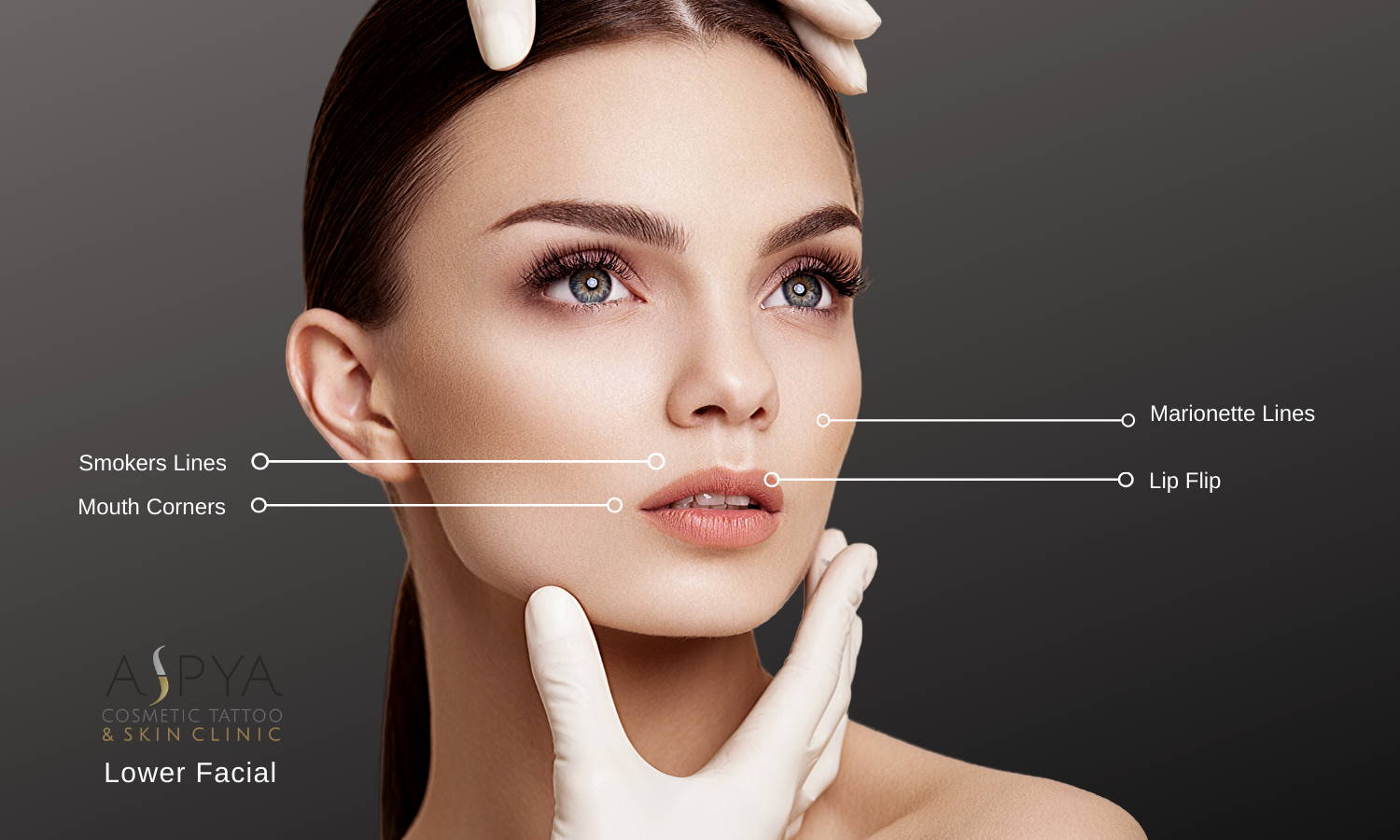 Are you a suitable candidate?
Reach out to us, we will only treat you if you are suitable for treatment.

The Fibroblast Plasma Skin Tightening Treatment Healing Process
3-7 days:
The formation of new epithelial tissue becomes visible as tiny carbon crusts flake off within the framework of aftercare. This occurs rapidly after a Plasma Skin tightening treatment and is usually complete 3 to 7 days post-procedure. The carbon crusts serve as a natural and protective biological dressing that will flake off naturally as the newly formed and rejuvenated "epidermis" appears.
1-12 weeks:
Fibroblast Plasma Skin Tightening is the gift that keeps giving because parallel to the rapid formation of new tissue (which constitutes the superficial healing process). The fibroblast treatment initiates an extensive healing response over the coming twelve weeks. The healing process is best characterised by the extensive dermal restoration and the reproduction of new collagen, and the production of elastin. The realignment and the cross-linking of collagen and elastin strengthens, plumps, upholds and lifts the structure of the skin, and the reversal of premature degeneration of dermal elastic tissue.The cellular inflammatory response that occurs during the healing process we trigger also activates the white blood cells to consume and digest cellular debris which then reduces the inflammation.
Our fibroblast treatment stimulates the transfer of the basal keratinocytes" from the basal layer of the skin towards the surface, and they help fill in the gaps created by the micro-trauma we create.
12 weeks-3 years:
As we say, Fibroblast Plasma Skin Tightening is the gift the keeps on giving "neovascularisation" is occuring over this period, which is the formation of new blood vessels and the release of growth factors. The development of new blood vessels and the release of growth factors in tissues where circulation has been impaired by trauma.
The growth factors include "cytokines" – small proteins important in cell signalling that help balance our immune response, our cellular ageing and the repair and regeneration of new cells.Many positive changes continue to occur we make with our fibroblast plasma skin tightening treatment underpin future tissue stability and help prevent and slow down many of the future effects caused by the ageing process.
Results:
The treated area is visibly smoother; the skin is plumper and rejuvenated. Fine lines and deep wrinkles are minimised.

Plasma Skin Tightening Pricing